Qatar is a paradise for the adrenaline junkie! With time to spare between matches during the World Cup, why not throw an excursion in the mix? From adventures in the desert to thrill-seeking activities in the crystal-clear waters and the warm summer air, there's an abundance of operators available to deliver experiences for for all…    
1. Desert Excursions & Dune Bashing
A day trip to the south of the country, approximately two hours' drive from the capital city, is just the ticket for anyone wanting the full desert experience! Collected from your accommodation, passengers are whisked away to the dunes in large SUVs. Marvel at the skill of the local drivers as they career up and down the dunes, adeptly navigating the tricky terrain. Tourists will experience the ultimate adrenaline rush as they race across the sand, at times feeling as though the car is on ice as it slides sideways down the inclines.
Sandboarding, camel riding and even taking a dip in the breath-takingly vibrant inland sea, known locally as Khor Al-Adaid, are all encouraged. Finish the trip by fully immersing yourself in Bedouin culture and appreciating the famous Qatari hospitality on the shores of the Mesaieed Beach. Relax in a traditional style Bedouin tent and enjoy a glass of tea and local delicacies before heading back to the city.
2. Hike & Climb Dahl Al Misfir
Accessed in just under an hour from Doha, Dahl Al Misfir is a great adventure for all the family. Free to enter, this ancient sinkhole is as mystifying as it is beautiful. Estimated to have been formed between 325,000 and 500,000 years ago, explorers can hike 40 metres into its depths. Wonder at the natural phenomenon of phosphorescence which causes the rockface to emit an otherworldly glow as you venture further into the darkness. The uneven terrain challenges visitors to scramble and climb over varying boulder sizes so suitable footwear is advised.
Make sure to keep an out for migrating birds such as nightjars and wagtails that are known to nest in the soft limestone on their way to and from Africa!
Don't be fooled into thinking Qatar's desert landscape has nothing but sand dunes to offer. Shaped by the desert winds, the unique rock formations located in north-west Qatar's Zekreet National Park are the perfect challenge for any keen climber. With over 10 different routes to tackle, each with their own puzzle to solve, you won't leave disappointed!
There are also options for less serious climbers; EsQalar in Doha's Aspire Zone offers all the thrills and health benefits of rock climbing but with less sand and more safety mats. They cater to all abilities and ages, offering trial sessions and classes for children.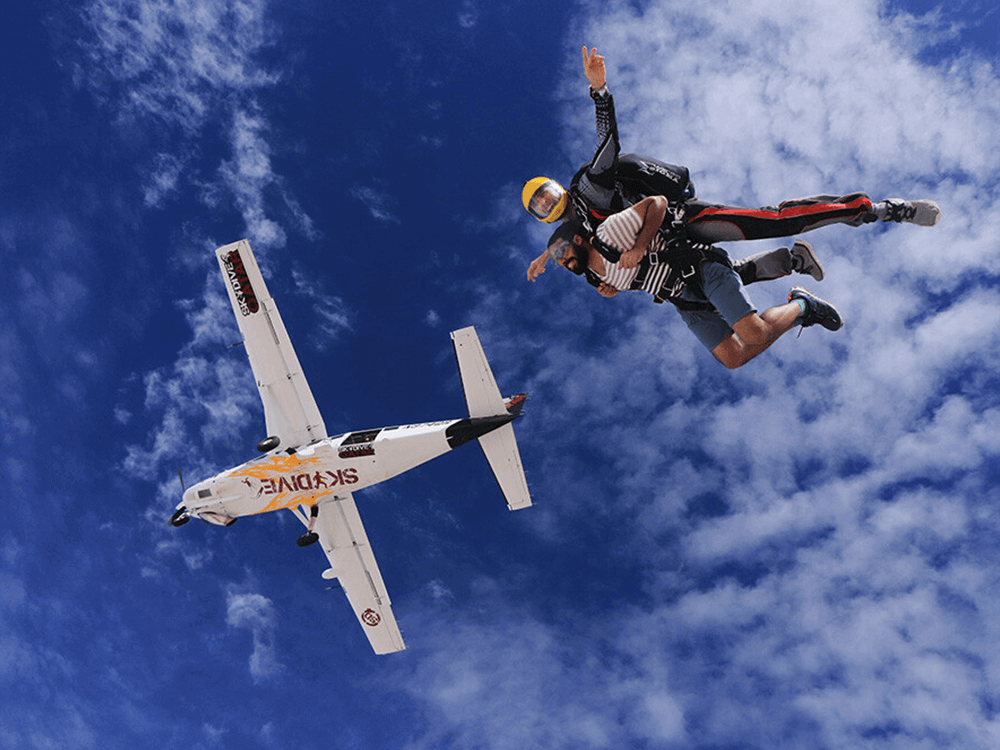 If nothing says adrenaline to you like jumping out of a plane at 12,000 feet, then Skydive Qatar is the place for you. The facility is based 40kms north of Doha at the Um Al Shkot Airport. The world-class team of international skydiving instructors are trained to create a welcoming and safe environment for novices and experienced jumpers alike. Skydivers can expect to enjoy one minute of freefalling following by five minutes of peaceful decent, taking in all Qatar has to offer from the sky. It is not an activity for the faint-hearted or for tourists on a budget, however, for those true adrenaline-junkies, there is nothing else quite like it!
Qatar is somewhat of a hidden gem when it comes to watersports. Visitors would be forgiven for not knowing where to start with the sheer volume of options available. Whether it's surfing, sailing, wakeboarding, kayaking, jet skiing or paddle boarding, the beaches surrounding Doha are packed full of operators ready to help. Head to Doha's Corniche or Aspire Zone to get your city watersport fix! If it's diving you are after, you can also sign up to excursions that explore coastal shipwrecks, marine life in Khor Al-Adaid and reefs south of Doha.
6. Kayak in Al Thakira Mangroves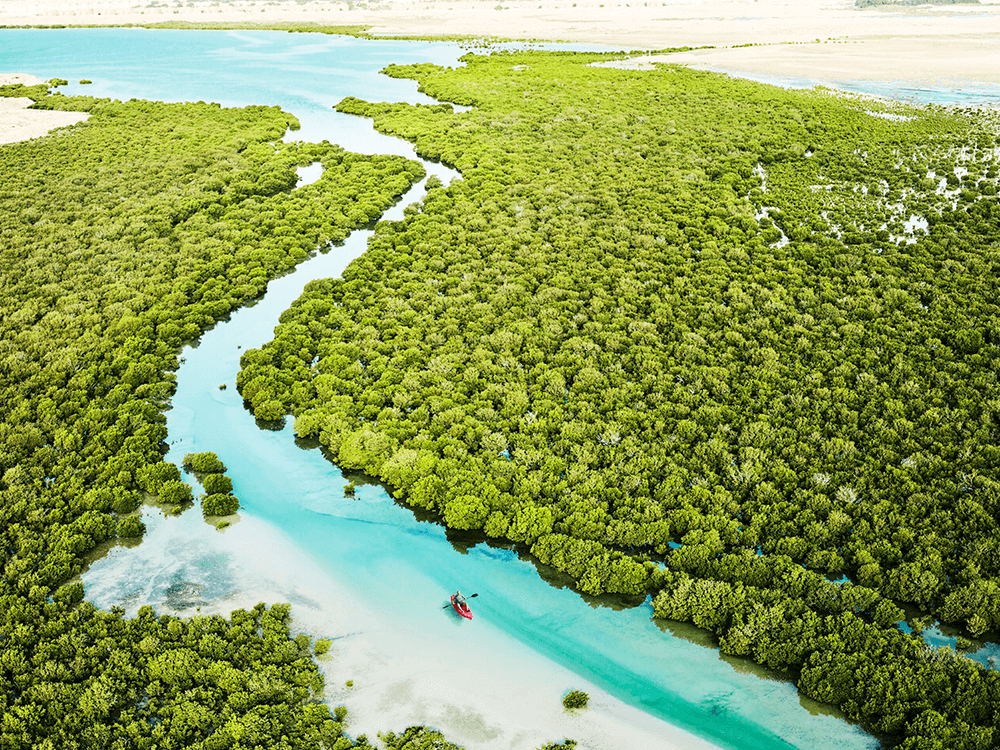 Located just over an hours' drive north of Doha, not far from the city of Al Khor, the only (and best) way to explore Al Thakira Mangroves is by kayak. Do not pass up the opportunity to visit these unique coastal swamps if you have the time. Although guided tours are available, they are not a requirement and there is no charge to enter.
A surprising contrast to the sweeping sand dunes, Al Thakira is a welcoming refuge of luscious green and crystal-clear water. Kayak through its narrow waterways full of tangled roots, photographing the variety of birds and marine life that have made the mangroves their home and soak up its tranquillity. Al Thakira beach is only a short drive away and a perfect way to end the day, relaxing on the white sands and enjoying a well-earned break.
It is all about the sunrise with hot air balloons. See Qatar from an entirely different perspective by taking to the skies with one of Doha's hot air balloon operators. To get the most out of the experience, passengers are advised to book early morning trips to take in stunning panoramic views of the sunrise over Qatar. Trip durations usually last around an hour and can provide the perfect setting for a romantic trip or bucket list activity.
The annual Qatar Balloon Festival is scheduled for late November and is due to coincide with the Qatar 2022 Football World Cup. A mesmerising spectacle, the masses of kaleidoscope-coloured balloons will be a must-see for visitors to the country.
Fresh from its own cycling revolution, Qatar has seen a rapid uptake in the sport in recent years. If you're looking to get some miles in whilst you are in Qatar, check out Qatar Chain Reaction cycling group for information on the best routes and recreational rides to join. Mountain biking is equally popular to the north of the country, with bikers taking on rocky routes near to Zekreet and the UNESCO designated Al Reem biosphere. Other sight-seeing opportunities accessible by bike in the area include Richard Serra's renowned East-West / West-East installation as well as abandoned film sets nestled among the arid landscape.
As the Official Travel Partner to The FA, we're excited to be providing Official England World Cup Travel™ Packages to England's passionate supporters! Be sure to snap up the limited Early Bird offer and get your place secured for this once-in-a-lifetime event.   
Sportsworld Holdings International (Company number 11689010) is the parent and 100% owner of Sportsworld Group Limited (Company Number 01663571, ATOL 2336, ABTA Y6768) and Sportsworld Events LTD (Company number 11810318)
Registered Office: Sportsworld Group Ltd, 4th Floor 56 Oxford Street, Manchester, England, M1 6EU - VAT GB38175431.
All the flights and flight-inclusive holidays on this website are financially protected by the ATOL scheme. When you pay you will be supplied with an ATOL Certificate. Please ask for it and check to ensure that everything you booked (flights, hotels and other services) is listed on it. Please see our booking conditions for further information or for more information about financial protection and the ATOL Certificate go to: www.caa.co.uk.
We are a Member of ABTA, membership number Y6768. We are obliged to maintain a high standard of service to you by ABTA's Code of Conduct. We can also offer you ABTA's scheme for the resolution of disputes which is approved by the Chartered Trading Standards Institute. If we can't resolve your complaint, go to www.abta.com to use ABTA's simple procedure. Further information on the Code and ABTA's assistance in resolving disputes can be found on www.abta.com. You can also access the European Commission Online Dispute (ODR) Resolution platform at http://ec.europa.eu/consumers/odr/. This ODR platform is a means of registering your complaint with us; it will not determine how your complaint should be resolved. We provide financial protection for your money when you buy a package holiday. If you buy other travel arrangements such as accommodation only, ticket only  and hospitality only this protection doesn't apply.
This Website contains links to other websites that may either be websites operated by companies or brands which are members of the Sportsworld group of companies or external websites operated by our selected suppliers or partners or other third party websites. Please note, we are not responsible for nor do we endorse the content of these websites and your access and use of these websites will be subject to the terms and conditions of those websites.