Whilst you are gripped by the excitement of the football World Cup, Doha offers just as much fun-filled activities to entertain kids. From theme parks to water parks, trampolining centres to museums, rest assured, there will be lots of opportunities for your kids to burn off their energy.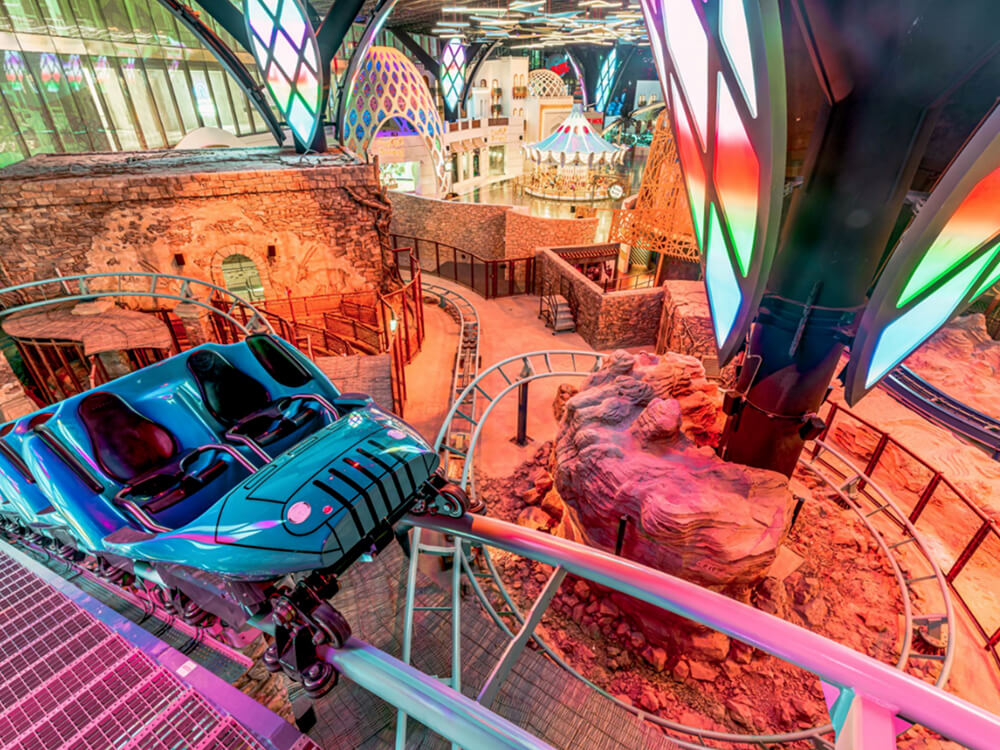 If you love theme parks, look no further. Qatar's newest indoor theme park is filled with over 30 attractions and that all-important air conditioning!
Kids can find different departments within Quest to stay entertained all day. From the Planet Hollywood Restaurant to Gravity, a futuristic space–approach themed park, the fun doesn't end there. You can finish your day at the Space Cantina or treat yourself in the Time Quest Retail Store! The options are endless…
The most entertaining indoor centre in Qatar has an array of activities and games to keep everyone happy, irrespective of age! Located at The Pearl, Qatar – Medina Centrale, the centre offers interactive gaming spaces including all-time favourites like Gaming Arcades, Bowling, Karaoke and so much more.
You'll also find exciting gaming spaces that include Racing Stimulators for the kids or darts for the dads. The family orientated centre also provides many dining options to complete the package; from sushi bars to cafes and family dining restaurants, everyone's preference is covered.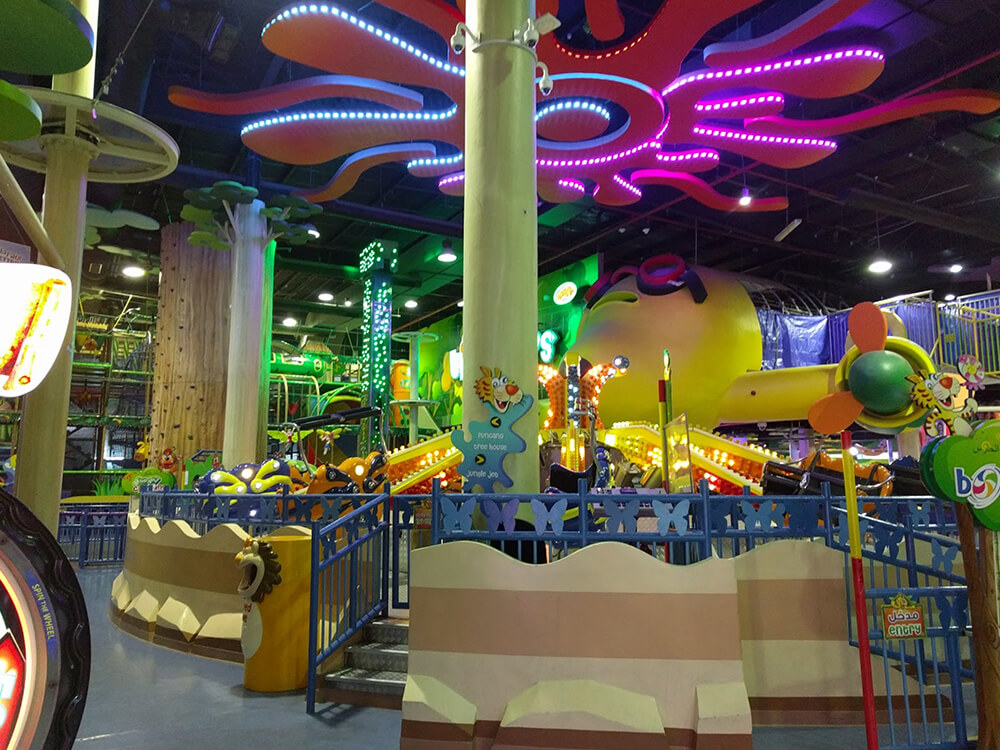 When you enter Jungle Zone, a magical carnival at Hyatt Plaza, you'll enter a jungle-packed park, full of roller coasters, amusement park attractions, computer games, carnival games and jungle creatures!
This isn't your normal theme park; with attractions like a 7D Dark Ride, Splash fall, an indoor water ride and Bumper boats, Jungle Zone needs to be on your list of places to visit for the kids (& the adults). There's also The Jungle Jet area that includes a trampoline section, a small game section and seating area. The Nest Area is geared for younger guests, involving rides and games suited to their age and size.
BOUNCE gives you a taste of fun, freedom, and freestyle. Offering exciting activities in a safe and controlled environment, this place is perfect for all the thrill-seeking family members!
There are adventure challenge courses for Ninja Warriors wannabes, the tallest wall – running wall in the world, parkour areas, more than 100 connected trampolines, dodge ball areas and so much more. The fun is endless!
Prepare yourself to visit the new aquatic theme park, one of the largest themed parks in the Middle East, boasting with 28 water slides and rides with about 20 attractions. The excitement includes a variety of slides and rides- maybe you can try the inner tube slides where you can twist and turn your way through enclosed tubes into the pool? Or maybe, the King Cobra, a twin tube ride that takes you straight to the mouth of the King Cobra. There's also the Ship kids Pool, especially equipped for little ones.
There's something for all the family. If a water ride isn't your vibe, why not visit the Laser Tag or Go Karting at the Desert Street Circuit.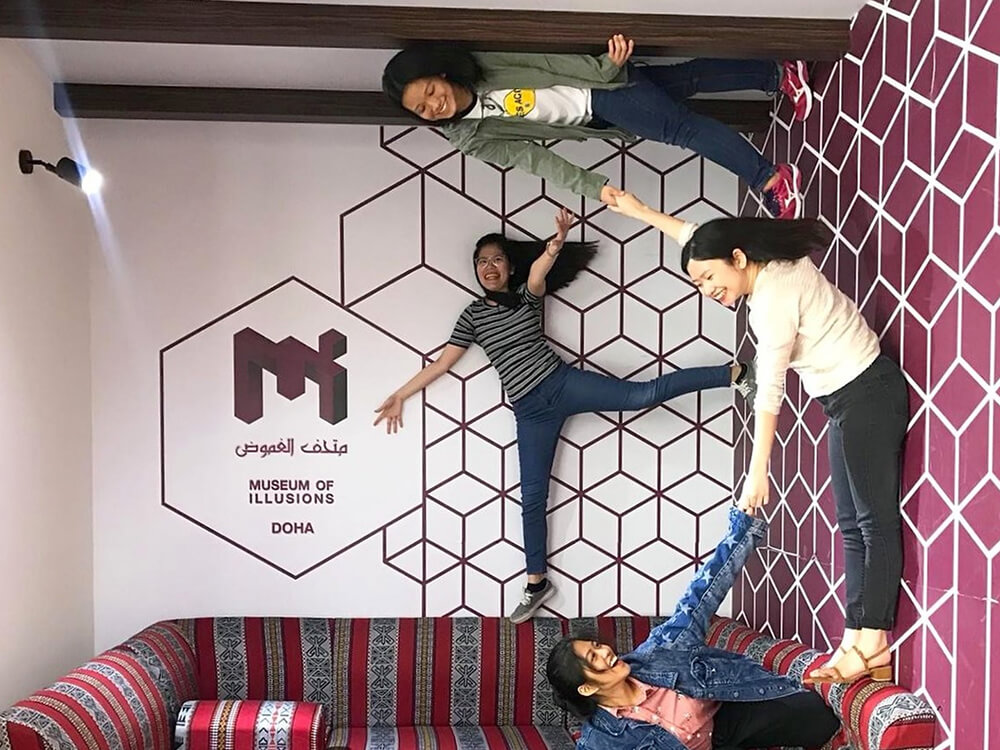 This museum isn't your average museum; features based on science, maths, biology, and psychology will trick your eyes and mind. Located in the heart of the West Bay at the premises of The Gate Mall, the museum is designed to amuse, amaze, and stimulate the senses. Confusion will get the better of you in different interesting ways – looking like a giant or hanging upside down through an optical illusion. Or you might want to see yourself through a 'true mirror' or enter an anti – gravity room? Your imagination can run wild in this museum…
The world's first Angry Birds Park is here! Located in Doha Festival City, the ultimate fun destination is perfect for the whole family. The Park contains over 20 high-quality rides and attractions including 'The Big Tree', a basketball court, foam pit and a kid's court, not forgetting over 70 arcade machines!
Outside you'll find a 42 metre high Super Slingshot tower that catapults you more than 60 metres in the air, a Raft Battle River, and a City Studio with climbing ropes. You can't miss the Angry Birds Go Karting Track either – the world's first indoor/outdoor karting track. This jam-packed park is something you can't miss, it's the perfect day out!
This theme park is a highly anticipated new addition to Qatar, further cementing Qatar's recognition as an ideal family destination. The main purpose of Kidzmondo is to get your kids engaged with educational activities…in a fun way!
Located at the famous Mall of Qatar, the indoor theme park lets kids develop their knowledge with some mind games and physical activities. Ideal for kids aged 2 to 14 years, the kids learn primarily from their interests. The games involve professional role play luring kids to better understand their future careers! Whether it be a barber or a doctor, there are interactive games for whatever interests your kids!
As the Official Travel Partner to The FA, we're excited to be providing Official England World Cup Travel™ Packages to England's passionate supporters! Be sure to get your place secured for this once-in-a-lifetime event.   
Sportsworld Holdings International, company number 11689010, is the parent and 100% owner of Sportsworld Group Limited, Company Number 01663571, ATOL 2336, and Sportsworld Events LTD, Company number 11810318.
Registered Office: Sportsworld Group Ltd, Causeway House, 13 The Causeway, London, Teddington, TW11 0JR - VAT 01663571.
Some images © Getty Images
Flights-inclusive packages sold on this website are financially protected by the ATOL scheme. But ATOL protection does not apply to all packages, more specifically to none travel related products and UK hospitality. Sportsworld will provide you with information on the protection that applies to the service and products you book. All ATOL protected bookings will receive an ATOL Certificate prior to travel, which only covers the named persons on the certificate. Please see our booking conditions for more information, or for more information about financial protection and the ATOL Certficate go to: www.caa.co.uk.